With the rise of AI chatbots like OpenAI's ChatGPT, many companies have started to implement the power of language models to assist in daily tasks, with marketing and sales being no exception.
Creating effective marketing strategies requires a ton of time and effort. Companies interested in growth must continuously research new opportunities in the industry as well as market their products at the same time.
Marketing and sales teams can benefit from generative AI's ability to create a large amount of marketing content at scale. AI that can access public company data may help your team find your next customer, partner, or investor.
In this guide, we will look into ChatSpot, a marketing and sales AI assistant powered by GPT-4. We'll cover the key features of the chatbot and how it can be used alongside the HubSpot CRM platform to help your company grow.
What is ChatSpot?
ChatSpot is an all-in-one AI-powered chatbot that is designed to help your business grow.
Using a variety of databases and a chat system powered by GPT-4, ChatSpot is capable of performing a variety of tasks from keyword research, sales prospecting, content generation, and more.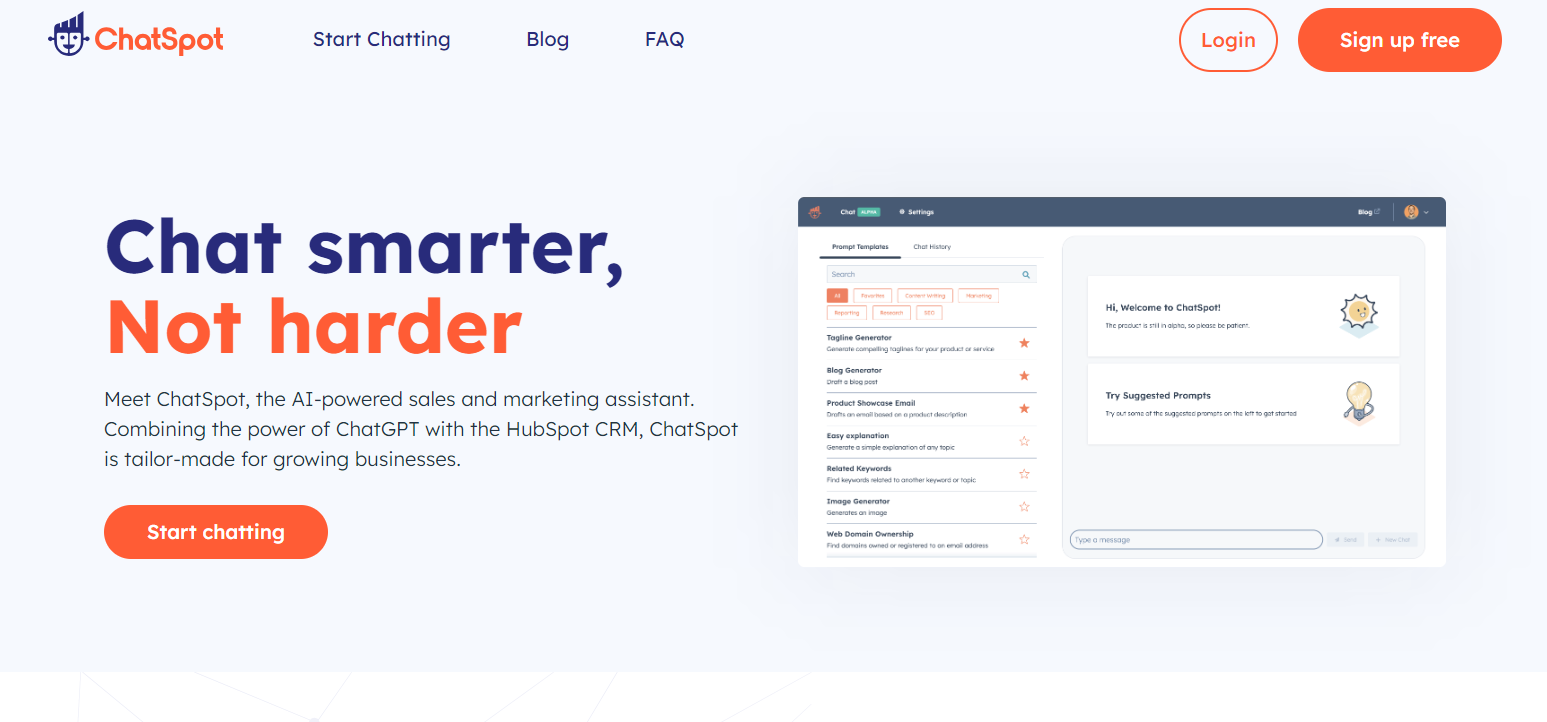 The platform is one of the latest products from HubSpot, a leading software platform that helps businesses with marketing and sales.
HubSpot fills a niche as an easy-to-use platform to keep track of customers, marketing campaigns, sales, and a variety of other aspects for businesses. Similarly, ChatSpot aims to put all sorts of AI features under a single chatbot interface.
It combines OpenAI's GPT-4 model for text generation, DALL•E 2 for image generation, and a variety of databases to pull up information such as companies, domains, and paid ad keywords.
Key Features of ChatSpot
Let's take a look at some key features of ChatSpot.
Content Generation
Users can work with ChatSpot to draft blog content in seconds, edit them for brevity or clarity, and post in one click to HubSpot.
ChatSpot also includes prompt templates to help with common tasks such as summarization, creating simple explanations, and rewording existing text.
ChatSpot also uses DALL-E's API to create AI-generated images based on a text description. Teams on a budget can rely on this feature to add eye-catching graphics to their marketing material.
Keyword Research
Another important task when handling marketing strategies is keyword research. This task involves identifying the specific words and phrases that potential customers are most likely to use when searching for a product or service.
With ChatSpot's SEO prompts, you can quickly look up all keywords related to a given keyword or topic.
ChatSpot also allows you to find search phrases and questions related to a keyword.
ChatSpot also allows you to easily research keywords that competitors are paying for by simply inputting your competitor's URL. By analyzing the keywords their competitors are targeting, marketers can adjust their approach when developing their own pay-per-click advertising campaigns.
Company Research
Another unique feature available in ChatSpot is the various Research prompts that you can use to gain deeper insight on companies operating in a certain industry.
Providing an industry and location to ChatSpot will output a list of companies that meet that criteria.
Users can provide a specific company's domain name to access public company data such as historical funding rounds, recent news about the company, and even the tech stack they're currently using.
Integration with HubSpot Account
Another advantage of using ChatSpot is its integration with existing HubSpot accounts.
ChatSpot can act as a sales assistant that you can chat with to add new data to your HubSpot account. You can use natural language to add new contacts, create tasks, and more.
Content created in ChatSpot can also be posted to HubSpot in just a single click. Similarly, all companies that come up from research prompts can be added instantly to your HubSpot CRM database,
Pros and Cons of ChatSpot
Pros
It's good to have a single application to perform various marketing and sales tasks

ChatSpot works well with users who have existing HubSpot accounts, providing an easy-to-use interface with the CRM platform

The platform is currently free to use for all users with no known limitations.
Cons
Prompt templates work well as-is but the chat function itself is lacking in functionality


Some prompts do not work as intended. For example, the prompt for Company Location Information does not return any data after trying several times with different company domains.

Compared to other AI content generation platforms, ChatSpot's available prompts are quite simple and the platform lacks a built-in editor.

There is currently no support for adding custom prompt templates, which may be useful for users who want slightly different output for their use case.
Conclusion
If you're looking for an AI assistant for your marketing and sales efforts, it's certainly worth trying ChatSpot. This is especially the case if you are already an existing ChatSpot user.
While there is a need for some more flexibility with the types of prompts you can use, the current prompt templates work well for research and content generation. The ChatSpot blog shows that the developers are actively improving the tool with new features, providing multiple updates every month!
What do you think of ChatSpot's features?